"What matters is the space of encounter that this library enables"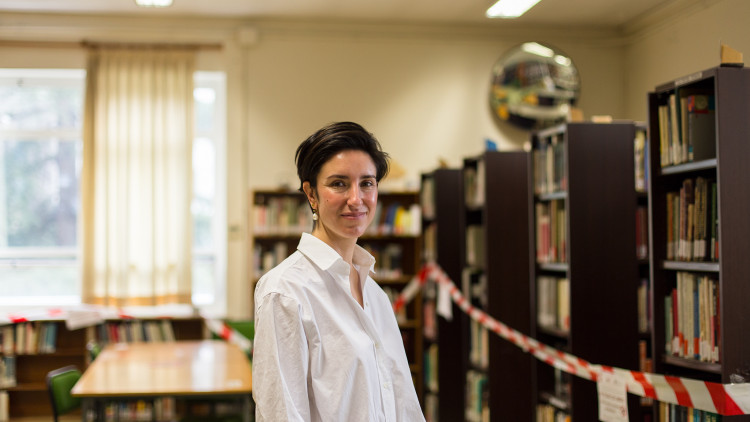 Julia Morandeira, mediator of the Library of the Faculty of Fine Arts project, talks about her experience.
The mediator's work is the backbone that runs through and determines the entire Concomitentes project. In the words of the protocol of François Hers, "The mediators organize their cooperation. They provide the necessary knowledge for the choice of the medium and the artist as well as the skills that will allow for the production of an artwork that respects the requirements of the commission as well as the creation." Julia Morandeira Arrizabalaga is the mediator of the project at the Library of the Faculty of Fine Arts, our Concomitancia in Madrid. In this interview she talks about her experience and the process of carrying out this work.
How did you become a Concomitentes mediator?
The Concomitancia at the Library of the Faculty of Fine Arts began before Concomitentes had been set up, when the library's director Javier Pérez-Iglesias found out that a Les Nouveaux commanditaires project was starting to come together in Spain, specifically in Madrid. That's when he got in contact, with the desire, or the initiative, to propose the library as a place that could formulate a commission.
What was the initial objective?
His first idea was to work on the organisation of the library. Javier felt that in spite of all the measures that had been put in place—a whole series of programmes, activities, and actions intended to open up the library to other ways of doing things—, a structural problem remained in the library itself: the spatial structure of how spaces are organised, how the bodies that use the spaces are organised, and also the contents of the library, the classification of books, documents, and other materials. The feeling that the library was not responding to current uses and ways of doing and being in that space. Or that there might even be future ways of doing and being in the library.
What mediation methodologies did you turn to in this initial phase?
We used mediation strategies based on an exploration of the physical space and of the processes, experiences, and people who inhabit and create the space through their presence. One of the first things we did was to talk with everyone involved in this exploration, using a form of active listening to all these processes, all these people and experiences that shape and create the library. On the other hand, we also explored the space we were trying to work in through somatic perception, through the prism of the body and the choreographic process. What kinds of bodies move in this library? What gestures do they make and reproduce? What gestures are codified in this cultural space, and what collective and individual choreographies appear here? And lastly, we worked on the speculative imagination: if we are thinking about how what we do in the present can affect our future library-making, what kind of library do we want to pass down to these later generations?
What inspired you to embark on this process?
These methodologies come from the feminism of the 1970s. They were developed with the aim of opening up other forms of political imagination so as to avoid getting stuck and stagnated in the present, for which we are often told there is no other alternative. They allow us to engage in situated thinking about what we are doing now, and accept responsibility and co-responsibility for future consequences.
What did you put in motion after this initial phase?
After this first phase, we realised that the library is a porous, very open, and very large collective organism. The group of citizen-commissioners working on the project—Javier Pérez-Iglesias and Amelia Valverde, and close collaborators such as teachers, students, and workers who also inhabit the library—understood that this was a much broader idea of the library, and that we would have to generate a mediation mechanism that would allow us to collectivise the formulation of the commission of the artwork. And so we started creating Ranganathan, a study and working group dedicated to collectively engaging with the idea of the library. The Library of the Faculty of Fine Arts was the point of departure, but it radiated out to other libraries, other kinds of library-making, other ways of using and being in this space. In short, we began to generate a whole, much richer mechanism that also added complexity to our thoughts on what the library is today, what we would like it to be, and what it might become.
Where does the name of the group come from?
We chose Ranganathan as a name, but also as a source of inspiration for the project. Ranganathan was an Indian librarian who did important work in the field of library science in the second half of the 20th century. In fact, his five laws still structure and organise many libraries around the world. The reference to Ranganathan is a gesture of recognition of non-Western legacies in the world of libraries, which—we should not forget—is linked to the idea of the archive, with its deep colonial roots. We also took Ranganathan's five laws of library science and adapted them to our project as a kind of guide that also structured various plans for both thought and action.
What steps did you embark on after this initial inspiration and meeting stage?
Another crucial element of the mediation process was our work with Sagrado Nova, a facilitator and services designer who worked with us on various co-creation spaces and strategies. If we accept that the library is a place in which there are different points of contact with users, and the uses define the library as space that provides services: how can these services help us to think about reformulating the library? Sagrado's work was key to facilitating discussions, conversations, and questions, and above all leading and designing workshops that allowed us to reach a series of conclusions that led us to radically change our initial understanding of the commission.
What conclusions did you draw from this mediation process?
The main conclusion that we drew from this rich, dense, and fertile mediation process was the idea that our initial intention—which was based on modifying the structure and the organisation of the spaces and contents of the library—was very limiting and limited. It would lead us to try to fix or improve the library, to change it in a physical and material sense. We realised that despite its structural limitations, the thing that really matters is what the library does, a kind of compendium of activities and knowledge. What matters is that the library enables a space of encounters with ideas, with books, with other people, with oneself, with different reading processes. Encounters with ways of understanding the library, the collection, the archive, knowledge, learning, experience... And what matters most are the discussions that begin there. Those encounters, full of possibilities, are not exclusively confined or subject to the physical space of the library or to its inherent order. What we really want to do with this project is to highlight this power that the library has.
How would you describe that power?
It is a power that can be activated or revived in this faculty but also in other libraries. The lessons that came out of this experience highlight this library's capacity to enable encounters and the specificity of how things are done in this space, but they are also a celebration and an activation of those encounters in spaces beyond the library itself.
How did you express these conclusions in the form of a commission?
The commission was formulated as follows: How can we generate an intervention, how can we imagine an artistic intervention, that honours the encounters and unique way of doing things in this library, but also emerges in other libraries and even in spaces that we don't label libraries but, in some way, live and breathe these kinds of approaches, enable encounters, and allow these kinds of knowledge and experiences to take place? So now the commission operates at a level of greater possibility. We've expressed the commission as a space in which to imagine interventions that communicate and convey, that celebrate and activate this way of thinking about the library and about library-making.
How did you choose the artist as a result of this mediation and this commission?
The way the commission was formulated led me to think about how the language of sculpture could be used to respond to or activate a library, not just in the sense of a physical space but as a certain way of doing things. That's when I thought of Iván Argote, a Paris-based Columbian artist whose sculptural work sheds light on ways of doing, and who works with collective participation. Iván's work is closely linked to his sculptural practice and his language revolves around a central concern that animates and tautens the way his projects eventually take shape. It has to do with how we live together, how we can live together in a different way, what these ways of being together are like, with their tensions and conflicts, with consensus and tenderness and violence.
A well-rounded artist with many sides...
Another key aspect of Iván Argote's work is his relationship with language. For some time now, much of his work has incorporated forms of writing, language in the city, on bodies, in public spaces. He uses language that is highly poetic, language that is not transparent or legalistic but conjures up many images and multiple forms of interpretations rather than a single one. And he is inventive as well as poetic, he has the capacity to invent new words and fill them with new meanings.
Out of all these reasons that make Iván Argote such a good fit for this commission, which one would you highlight?
Iván Argote is ideal for working on this commission because of his formal sensibility to generating spatial interventions based on collectivity and community, and connecting this to an expressive capacity for language.
How did the citizen-commissioners respond to his selection?
Their response was remarkable from the start. It's true that Iván is very humane, with an exceptional capacity to listen to and generosity toward people and their environments. He has worked on many collective processes, his work draws on experiences that reflect those processes, and he has also been involved with other forms of education with children and teenagers. So he has experience in relating to situations such as this one, where an artwork is commissioned by a group of citizens.
What has it been like at the more political level of dealing with the university, which is also part of your work as mediator?
One of the particularities of the Concomitentes project is the fact that it spans different timelines and processes to do with work, conversations, and mediation, which have to be managed simultaneously. So our negotiations with the authorities responsible for the spaces we're looking into—for possible interventions or to imagine the installation of Iván's artwork—have to take place in parallel to the mediation process. Now we're thinking that the installation, as a celebration of the library, could in fact emerge and be anywhere, not necessarily in the original context. We're opening up—respectfully, and always listening—to the needs, requirements, and obligations of each space in this whole process of conversation.