"Art must play a role in making people's lives better"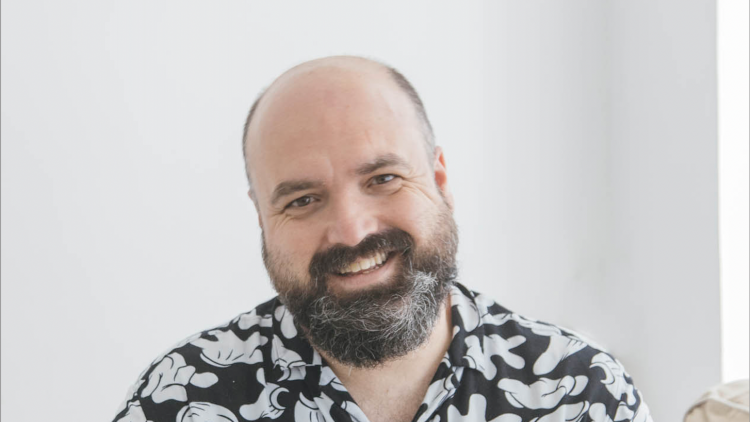 An interview with El Hematocrítico, the second artist selected to create an illustrated story for the Concomitancia at the Paediatric ICU.
A Galician artist whose work has a humorous touch that puts smiles on faces, Miguel López—better known as El Hematocrítico—is the second artist chosen to illustrate the story of our Concomitancia at the Paediatric ICU of Nuestra Señora de la Candelaria Hospital in Tenerife. How does an artist tackle the challenge of accompanying ICU patients through art? He talks about it in this interview.
How are you approaching the challenge of this creative collaboration with Concomitentes?
I feel very happy, humble, and proud that they thought of someone like me for a project like this. I know it might seem crazy to put a writer who specialises in humour in charge of helping patients at a Paediatric ICU, through art. But it makes a lot of sense, and I think it's a stroke of luck, I feel very fortunate.
What's your inspiration going into this project?
One thing I have in common with the other participants—the nursing staff at the ICU, Felipe, and Andrés—is the ability to listen and empathise, to put ourselves in someone else's shoes. So the idea of listening is my point of departure: I have to listen, learn, be aware, and I have to feel. During our meetings—the videoconferences and especially the face-to-face meeting—I soaked it all up, and I had a ball.
"I was moved, I got goosebumps, I was sad, I had all kinds of feelings. But above all, I felt respect and admiration for the work these professionals are doing, their human values, and the way they approach their job. I wish there were more people like them."
Can you give us a sneak preview of what we will see in the illustrated story?
My initial idea is to make an illustrated album featuring patients, so they can share what they see or their points of view. As adults we notice certain things, but they of course see others. So I'm going to try to address them in their own language—I think that's something I can do—and talk about what's ahead for them.
What's your opinion of this proposal by Concomitentes?
I think it's a terrific idea, and all the projects are wonderful. I have a special soft spot for the Pasatiempo Park in Betanzos, which is one of the most wonderful places I've ever been. It was closed last summer and I was totally heartbroken.
"It's been wonderful to find myself involved with people who feel the need to do this. They have great sensitivity, and that's something that comes through in the four Concomitentes projects."
These are people who understand art in the same way I do: as a means of expressing your own sensibility. All the projects are amazing, I'm overjoyed to be able to work with them. I'm grateful and excited, eager to give the best of myself.
What's your take on this collaborative art making?
I think one of the many roles of art must be to make people's lives better. Not just aesthetically, but also on the conceptual level, or in terms of accompanying people, like in the project I'm doing at the ICU. This idea of taking a patient's hand and saying: "Let me tell you something." I think it's incredible that an organisation like this exists, and that they thought of me.
·