"The Diversorium shows how we can all benefit from the reality of functional diversity"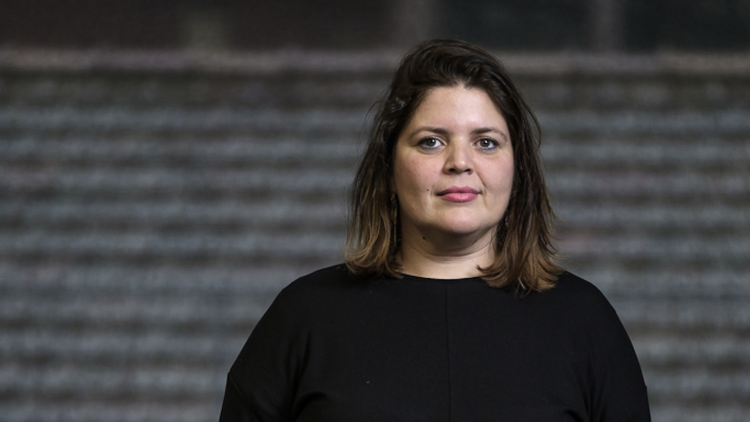 Veronica Valentini is mediator of the Barcelona Concomitancia, the Diversorium.
Veronica Valentini is a self-described curator and researcher who lives and works in Barcelona. Her work revolves around issues concerning the public sphere and her practice includes exhibitions, residence-based public programmes, education, and research. She is also the mediator of the Barcelona Concomitancia—the Diversorium—, a project that responds to the desire of two activists, Antonio Centeno and María Oliver, for a festive, social space in which to dance with the city's various "invisible" affective communities. In this interview, she talks about the process of development and self-discovery—also affected by the pandemic—and reveals what they've done, what they're up to, and what's in store.
What does cultural management mean to you?
Cultural management is the "hard drive" of projects. It's where, amidst data, spreadsheets, and so on, we accommodate plural narratives, pool our desires, and forge collective imaginaries. It's also a powerful material tool that can change the rigid administrative structures of cultural institutions. It's where you "can make things happen, and also create rules and regulations," as Teresa Cisneros writes in an interview published by Editorial Concreta, in which she points out that the role of an administrator or cultural manager is much more influential than that of a curator, contrary to popular belief based on their being more visible. [1]
How would you define the mediator's role? Has this definition changed for you as a result of joining Concomitentes?
I like to think of mediators as the microorganisms responsible for the relationship between things, people, and ideas, because they are constantly concerned with transformative processes. Being a mediator in a project like Concomitentes is an opportunity to experiment with co-creation processes. It's like being part of a kind of parliament with an audience of active participants rather than passive spectators. And, of course, care, listening, and attention are essential.
What spaces, methodologies, and mediation strategies have been created in your project to encourage reflection, research, and exchange?
The Diversorium was the first space for celebration and socialising born out of the desire of a group of people with functional diversity, and open to all bodies. It is a leisure space that revolves around social aspects and experiences, governed by interdependence and abundance. For this reason, we wanted the mediation process—which is part of the actual artwork created through this project—to be collectivised and involve everyone from the start, learning and unlearning through dialogue, performance, dance, and pleasure. From there came the idea of organising parties in popular and commercial contexts, such as local neighbourhood fiestas and the Apolo nightclub, although there has only been one due to Covid. But we're now looking into how to develop—spatially and empathetically—a "brave space" that is also welcoming. bell hooks talks about wanting to get past the idea of the "safe space" in favour of brave spaces that encourage us to "cultivate together a community that allows for risk, the risk of knowing someone outside your own boundaries." [2]
How is your journey with the project's citizen-commissioners going? How have you been enriched? What have you learnt?
Contact has been steady, close, and intermittent at the same time, due to the pandemic and a pregnancy. What this project wants to show is not only how people with functional diversity can benefit from the creation of a festive leisure space, but also how we can all benefit from the reality of social diversity. That's why I talk about the idea of abundance: society pigeonholes us in spaces and norms, but when we think with functional diversity, all those barriers fall away.
What would you say have been the main challenges so far in your Concomitancia? What challenges are you facing in the medium term?
We have sought to intervene in "the real", that is, to organise the parties in normative spaces like a nightclub and public space in Barcelona's Poblenou neighbourhood. Unfortunately Covid made it impossible to carry out the plan, which we'd already largely worked out. It has foregrounded the "social distancing" that people with functional diversity live with every day, which the project seeks to abolish. Now we have to sound out the city council for permission for ongoing use of a space in the city that we've already found. After that, we'll determine whether the artwork will be ephemeral or a permanent intervention.
[1] #TomandoLaTemperatura: Teresa Cisneros, Teresa Cisneros, "Curar la herida colonial"
[2 ] At 49'-50'05", bell hooks "A Public Dialogue Between bell hooks and Laverne Cox"